Launch X431 PROS OBD2 Diagnostic Code Reader
LAUNCH X431 PROS GLOBAL diagnostic tool features a variety of useful reset & relearn, and advanced service functions to make servicing a breeze for mechanics in the workshop. It is a phenomenal diagnostic tool kit that has everything one could need for modern automotive maintenance and alteration. Programming, scanning, and testing are all covered by its accompanying software
GLOBAL LAUNCH X431 PROS V1.0 OE-Level Full System Diagnostic Tool Support Guided Functions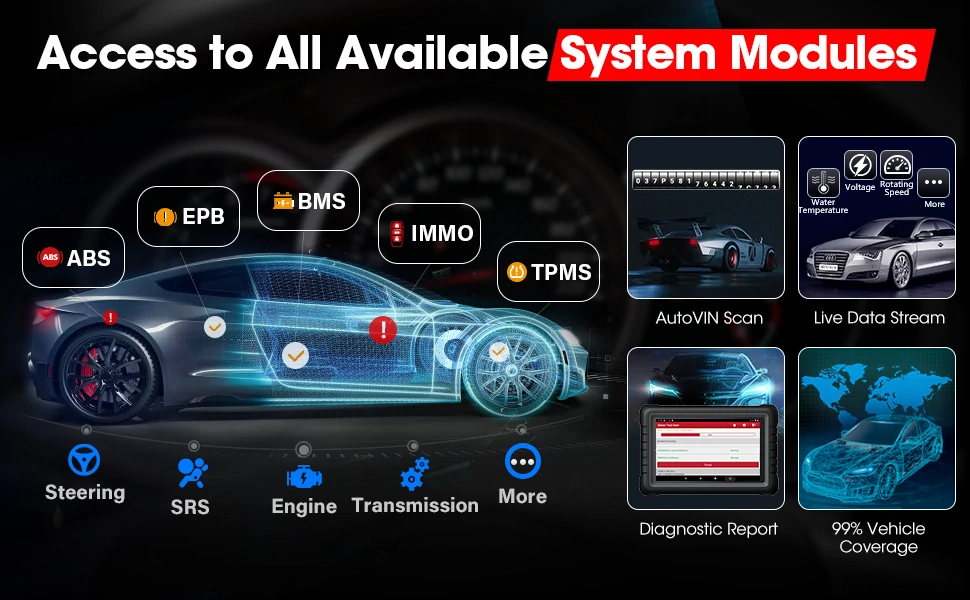 LAUNCH X431 PROS Highlights:
1. Global Version, NO IP Limited
2. With Two Years Free Update Online. After two years, the update fee is 450USD YEAR
3. Worldwide Coverage: Cover mainstream cars in Asia, America and Europe. Serve for Passenger Car, SUV, Pickup, etc.
4. Work with Other Extended Modules: Videoscope, X-PROG3, WiFi Printer, Launch TSGUN, Launch BST360,  X-431 ADAS Mobile/ PRO
5. Multi-Language Supported: English, Italian, Chinese, German, Japanese, Russian, French, Spanish, Portuguese, Polish, Turkish, Dutch, Korean, Swedish, etc
6. High-End Configurations include Android 9.0 System, 5000mAh Capacity, Wi-Fi, Bluetooth Connection, ROM: 32GB+128GB (expandable), 8″ Screen, 1280*800, Front 2MP Rear 5MP.
New Added "OE-LEVEL" Function of LAUNCH X431 PROS V
1. Guided Functions: Compatible with Volkswagen / Audi / Skoda / Seat etc.
2. Component Matching: Compatible with Volkswagen / Skoda / Seat / BMW / GM / Ford / Opel / Mazda / Fiat / Honda / Nissan / Hyundai / Kia / Subaru etc.
3. Online Coding: Compatible with Volkswagen / Audi / Benz / BMW / Seat / Porsche etc.
4. Online Account Login Service: Compatible with Volkswagen / Audi / Skoda / Seat etc.
5. Online Calibration: Compatible with Volkswagen / Audi / Skoda / Seat etc.
6. Online Parameterization: Compatible with Volkswagen / Audi / Skoda / Seat etc.
7. Power Balance: Compatible with Chrysler / GM / Ford etc.
8. Programmable Module Installation: Compatible with Ford / Mazda etc.
9. Flash Hidden Functions: Compatible with BMW / Porsche / Toyota / Subaru etc.
10. Actuator Test : Injector Test ;Turn Off ACC Lane Keeping Assist System (LKAS) ;Turn ON/OFF Front and Rear side ACM Solenoid , turning the fuel pump on and off, cycling the a/c ,clutch on and off, Left clutch electromagnetic coil test,Acceleration Device Test,Oil Pressure Control Test,DYNAMIC camera aiming,Vehicle level position calibration, Brake Vacuum Pump, Inlet and Outlet Valve tests, Open Brakes tests, Parking Brake Botors, Wheel Speed Sensor Supply, PARKING BRAKE tests (Vary by car, Hundreds of actuation test functions ) …
More functions and vehicle coverage is developing and waiting you to discover.
Functions Supported:
1. All Systems Diagnoses
This LAUNCH diagnostic scanner can establish a data link to all systems and subsystems of the vehicle being serviced to:
* Retrieve ECU information of the tested control units including unit type, version numbers, and other specifications, etc.
* Read & erase DTCs to locate problem areas and clear the codes.
* View Live Data of each parameter item.
The following is a list of modern vehicle systems that this scan tool can get access to:
* Engines/ Auto Transmission/ Airbags/ ABS / Cruise Control/ Instruments/ Self Leveling Suspension systems
* Seats/ Doors/ Gateway/ Steering Angle/ Air Suspension/ Body Systems/ Electronic Power Steering & Motor Assisted/ Power Steering/ Tyre Pressure/ Rain Sensors/ 4WD System
* Stabilizer/ Intelligent Parking Assist/ Door Motors/ Audio Systems/ Air Conditioning/ Tiptronic/ Anti Theft/ Soft Top/ Headlamp Leveling/ Central Locking/ Automatic Clutch/ DPF Reset
* Electric Windows/ Plip Programming/ Heated Rear Window/ Xenon Headlights/ Wash Wipe/ Fuel Burning Heater/ Transfer Box/ Seat Memory/ Oil Life Service Reset/ Sliding Doors/ Electronic Throttle
* Navigation System/ Rollover Sensor/ Cruise Control/ Multi Function Steering Wheel/ Aux Heating/ Electronic Parking Brake/ Clutch Electronics … and more.
This comprehensive scanning process is able to locate the faulty systems and retrieve the DTCs related easily. So you can work on all parts of the vehicle systems to enhance the performance, save energy, reduce emissions, and everything else.